After Your Round, Relax at the Coonamessett Café!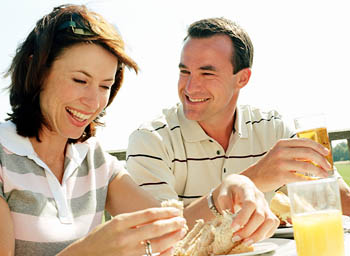 Cozy — and quite accommodating! That describes the Coonamessett Café at Cape Cod Country Club.
For hungry, thirsty golfers, we offer a snack bar/restaurant with expanded options of specialty sandwiches, burgers, wraps, soups and chili, hot dogs and a very good chicken salad that keeps 'em coming back!
There's room for 80, with three well-placed flat screen TVs so you can catch up on all the local and national sports action while you recount your fantastic round!
And if you just can't get completely away when you get away, Cape Cod Country Club offers Internet service.
Weather permitting, head back outdoors and relax at one of our five accommodating tables on the patio!
Call (508) 563-9842 or click here to book your tee time today!