Rumors of Ross. Solid Evidence of Devereux and Tull.
Cape Cod Country Club is a course everyone can enjoy.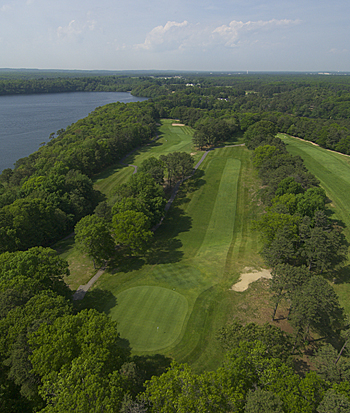 In 1928, Cape Cod Country Club opened as a nine-hole course called Coonamesset, named for the nearby inn.
The course was designed by Devereux Emmet and Alfred H. Tull, who also created Wee Burn Country Club in Connecticut and the Old Congressional Country Club outside D.C.
The course is rumored to have been redesigned and expanded to 18 holes the following year by legendary golf architect Donald Ross. However the Friel family has looked everywhere and cannot find any proof that Ross ever set foot on these fairways. "It would be nice to say this is a Donald Ross course," David Friel admits, "but we have no real evidence."
Click here for a great article about the history of this magnificent course!
Coonamesset underwent several name changes, including two years as the Treadway Inn during the 1950's before it became Clausen's in the 1960's. In 1977, the course became the Cape Cod Country Club.
In the 1950s, three consecutive Massachusetts State Open tourneys were held here: John Thoren won the title in 1955; Ed Oliver in 1956, and Bob Crowley won the first of his four State Opens in 1957.
Call (508) 563-9842 or click here to book your tee time today!